Associate Professor
Sign in to view more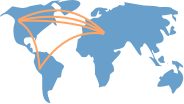 Show Academic Trajectory
After obtaining my Ph.D. I joined Prof. Yuille's group as a postdoc in UCLA between 2006 and 2008.
In Sep. 2008 I have joined Ecole Centrale Paris as Assistant Professor in the Department of Applied Mathematics, working in the Center for Visual Computing laboratory, and the GALEN research team of INRIA-Saclay.
Starting from 2016 I have been with UCL's department of Computer Science and was working with Facebook's Artificial Intelligence Research (FAIR) team until November 2018. I am currently working with Ariel AI.