高级网络设计工程师
Sign in to view more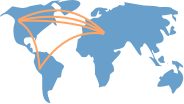 Show Academic Trajectory
I am originally from Kortrijk, Belgium. After growing up in Ouagadougou, Burkina Faso, studying in France and Mexico, and working in the San Francisco Bay Area, I currently live and work in the beautiful city of Paris, France.

I am an insatiable enthusiast of low-power wireless mesh technologies. It doesn't matter whether these are applied to Wireless Sensor Networks, Machine-to-Machine or the Internet of Things, I truly think that they are a revolutionary technology.

For the decade or so I have been working on it, I've had the chance to work with some of the smartest people in the field, and through contributions in the commercial, academic and standardization worlds, I hope to have impacted it.