Senior Software Engineer
Sign in to view more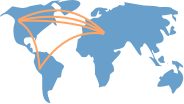 Show Academic Trajectory
I am broadly interested in data mining, machine learning, and their applications to real-world problems.

At Google, I develop machine learning techniques to understand and optimize Google's network.

Before joining Google, I was a postdoctoral researcher at IBM T. J. Watson Research Center (2013-2014) and a summer intern at Microsoft Research, Redmond (2012).