Professor
Sign in to view more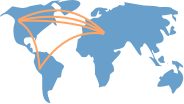 Show Academic Trajectory
USA-2010

For outstanding contributions to the architecture of interconnection networks and parallel computers.

USA-2002

For contributions to the architecture and design of interconnections networks and parallel computing.
Dally investigates methods for applying VLSI technology to solve information processing problems. His current projects include network architecture, multicomputer architecture, media-processor architecture, and high-speed (4Gb/s) CMOS signaling. His research involves demonstrating novel concepts with working systems. Previous systems include the MARS Hardware Accelerator, the Torus Routing Chip, the J-Machine, M-Machine, and the Reliable Router. His group has pioneered techniques including fast capability-based addressing, processor coupling, virtual channel flow control, wormhole routing, link-level retry, message-driven processing, and deadlock-free routing.