Nalini Venkatasubramanian
Professor
Sign in to view more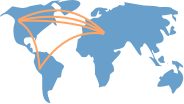 Show Academic Trajectory
RESEARCH AREAS:
Multimedia Computing
Networks and Distributed Systems

RESEARCH INTERESTS:
Dr. Venkatasubramanian's research focuses on enabling effective management and utilization of resources in the evolving global information infrastructue. In the coming years, multimedia to the desktop and home is likely to become a pervasive technology. The composition of multiple resource management services is necessary to guarantee safe, cost-effective Quality-of-Service (QoS) to global multimedia applications. She addresses the problem of composing resource management services in distributed systems.