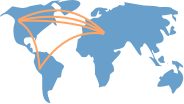 Show Academic Trajectory
Ralf Bartenschlager studied biology at Heidelberg University. Following his degree in 1987 and his PhD in 1990 at the Centre for Molecular Biology in Heidelberg (ZMBH), he worked as a postdoc at the Hoffmann-La Roche in Basel, Switzerland. Here, he started his scientific work on the hepatitis C virus (HCV). Back in Germany, he habilitated in virology at Mainz University and was appointed Professor for Molecular Virology in 2000. In 2002, he received an endowed Chica and Heinz Schaller Professorship for Molecular Virology at Heidelberg University.

He has since been Director of the Molecular Virology section at the Heidelberg Department of Infectiology. Since early 2014, he has also headed the Division of Virus-associated Carcinogenesis at the German Cancer Research Center (DKFZ), and coordinates its "Infection, Inflammation and Cancer" Research Program.

Bartenschlager received the Lautenschläger Prize in 2013, and the Robert-Koch Prize in 2015. Since 2013, he has been a member of the German Academy of Sciences Leopoldina. Bartenschlager is only the third German scientist ever to receive the Lasker-DeBakey Award for clinical and medical research.

Mary Lasker was an influential US-American activist and lobbyist in the health and medical research sector. Together with her husband she founded the Albert-Lasker Foundation in 1945 and played an important role ensuring that more funds were invested in medical research. Having lost her husband to cancer in 1952, the battle against cancer became a primary concern. She was consequently the most prominent advocate for the National Cancer Act in 1971, which initiated the "War on Cancer" in the USA and significantly increased the budget for the US-American national Cancer Institute.

Ralf Bartenschlager, Virologist and cancer researcher at the Heidelberg University Hospital and the German Cancer Research Center (DKFZ) has received the Lasker-DeBakey Medical Research Award endowed with 250 000 Dollar. This prize, which is awarded annually in three categories by the Lasker Foundation in New York, is the highest distinction for medical science in the USA. Many prize winners have later gone on to receive the Nobel Prize. Bartenschlager and his group were the first to propagate the hepatitis C virus in the lab. This has made it possible to develop targeted therapies against the virus that can lead to chronic infection and cirrhosis or cancer of the liver.