Professor
Sign in to view more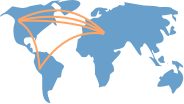 Show Academic Trajectory
Research Areas
Systems & Networking
Security
Algorithms & Theory
Research Interests
Security
Trustworthy AI
Programming Languages & Verification
My research asks aims to build better security and privacy in practical systems. The work involves combining formal reasoning, tools and ideas from several domains of computer science such as languages, verification, applied cryptography and distributed systems. Our work has resulted in several practical artifacts powering real-world systems.