Assistant Professor
Sign in to view more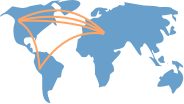 Show Academic Trajectory
I am now an Assistant Professor in Shenzhen Institutes of Advanced Technology (SIAT), Chinese Academy of Sciences, leading the Artificial Intelligence and Natural Language Processing team in Shenzhen Key Laboratory for High Performance Data Mining. In addition, I am the director of SIAT-DELI Artificial Intelligence and Law Lab.

Previously, I was a senior AI researcher at Tencent, working on NLP related tasks. I received my Ph.D. degree in Department of Computer Science, The University of Hong Kong, advised by Dr. K.P. Chow. Before that, I got my Bachelor degree from Sichuan University, 2012. I was a visiting student with Rensselaer Polychnic Institute from March 2016 to June 2016, worked with Prof. Heng Ji who is super smart and efficient.

My research interests include a variety of topics, including (but not limited to): Natural Language Processing (e.g., Dialogue generation, sentiment analysis, topic modeling, question answering, knowledge base, user profiling, etc.), Multimodal Learning (e.g., image captioning, video summarization), Deep Learning, Recommendation Systems, Machine Learning in Finance and Law.