Principal Research Scientist
Sign in to view more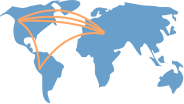 Show Academic Trajectory
Dr Cooper works as a principal research scientist at FXPAL from 2000 – 2018. He previously led the Integrative Analytics research theme. He develops automatic analysis technologies for interactive applications including the exploration, retrieval, and reuse of multimedia information. He also supports machine learning efforts across multiple projects.

At FXPAL, he has worked on a variety of projects including LoCo, mixMeet, TalkMiner, Interactive Video Search, ProjectorBox, and the FXPAL Photo Application.

He earned his B.S., M.S., and D.Sc. in Electrical Engineering at Washington University in St. Louis, and is a senior member of the IEEE and a distinguished member of the ACM.