Associate Professor
Sign in to view more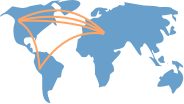 Show Academic Trajectory
I'm a senior lecturer (equivalent to associate professor in the U.S.) at Faculty of Information Technology, Monash University.
Awards
The University of Queensland Confucius Institute Visiting Fellowship, Tianjin University, China, Sep–Nov 2010.
President's Graduate Fellowship Scholarship, NUS, 2005–2006.
Singapore Millennium Foundation Scholarship (SMF), Singapore, 2004–2006.
Ministry of Education of Singapore Scholarship, Singapore, 1997–2002.