Professor
Sign in to view more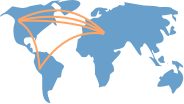 Show Academic Trajectory
USA-2007

For pioneering work in computational geometry, with profound applications across an astonishingly broad range of Computer Science disciplines. Leonidas Guibas is a towering figure in theoretical computer science and a pioneer of computational geometry. His ground-breaking, fundamental research over the last quarter century has shaped the field of computational geometry since its infancy and helped it evolve and mature. His passion for and dedication to establishing strong links with other disciplines has led him to make seminal contributions in computer graphics, computer vision, robotics, physical modeling, VLSI design, discrete algorithms, sensor networks, communication networks, and computational molecular biology. He is legendary for his remarkable rigor, coupled with a voracious appetite for new ideas, and the breadth of his contributions is an inspiration to colleagues and students alike. Dr. Guibas has been called the Miles Davis of computational geometry, the ultimate Renaissance man of Computer Science, a modern-day version of Gottfried Leibniz. His record of fundamental contributions to so many different fields within Computer Science is astounding.

USA-1999

For his work on geometric data structures, arrangements of surfaces and their applications, geometric algorithms in computer graphics, and algorithmic issues in computer vision.
Professor Guibas heads the Geometric Computation group in the Computer Science Department of Stanford University and is a member of the Computer Graphics and Artificial Intelligence Laboratories. He works on algorithms for sensing, modeling, reasoning, rendering, and acting on the physical world. Guibas interests span computational geometry, geometric modeling, computer graphics, computer vision, sensor networks, robotics, and discrete algorithms --- all areas in which he has published and lectured extensively. Current foci of interest include geometric modeling with point cloud data, deformations and contacts, organizing and searching libraries of 3D shapes and images, sensor networks for lightweight distributed estimation / reasoning, analysis of GPS traces and other mobility data, and modeling the shape and motion biological macromolecules and other biological structures. More theoretical work is aimed at investigating fundamental computational issues and limits in geometric computing and modeling.