Associate Professor
Sign in to view more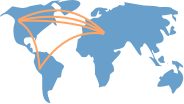 Show Academic Trajectory
My primary research interests lie in algorithmics and mathematical modeling, particularly in the contexts of social networks and the Web.
My research is supported by the ERC Starting Grant DMAP 680153, the PRIN project 2017K7XPAN, and by a Google Focused Research Award.
I serve as an associate editor for ACM Transactions on Algorithms.