Professor
Sign in to view more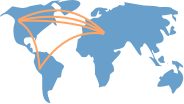 Show Academic Trajectory
Fergus Gleeson is a Consultant Radiologist and Professor of Radiology in Oxford. He trained in Cambridge, Papworth and London and was a Fellow in Radiology at UCLA in Los Angeles.
He was appointed to Oxford in 1992, is head of Academic Radiology and the director of Oxford Radiology Research Unit at Oxford University Hospitals NHS Foundation Trust.
His specialist interests are in PET and hyperpolarized xenon MRI.
Fergus is also the director of the National Consortium of Intelligent Medical Imaging (NCIMI). This aims to bring together the NHS, University and industry partners to promote the development and implementation of artificial intelligence and machine learning both into the NHS and global medical care.