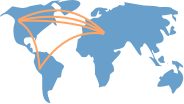 Show Academic Trajectory
Software
DaCe - Data-Centric parallel programming framework for CPUs, GPUs, and FPGAs.
Deep500 - An HPC Deep Learning benchmark, competition, and meta-framework.
MAPS - Device-level GPU memory abstraction and code optimization library.
CUDNN Training - A CUDNN-based minimal deep learning training code sample using LeNet.
MGBench - Multi-GPU computing benchmark suite.
ceres-windows - Windows port of the ceres-solver nonlinear optimization library.
Klogger - A Linux Kernel Logging Framework.
X+ - Numerical Analysis Tool for Solution and Powder Scattering Structure Factor of Macromolecular Systems.